Music Culture Creation Department,   
Nagoya University of the Arts' School of Music   
1. OVERVIEW:
This is a report on the session recording of works of Heinrich Schütz, one of representative composers in the 16th century German early baroque music, for SACDs with surround layers. The performance is by Dresdner Kammerchor. The recording took place in Radeberg, a suburb of Dresden, Germany, from October 14 to 18, 2012. The recorded product was released as SACD hybrid discs with CD-DA layers by Carus Verlag on 3 Oct, 2013.

2. THE LABEL AND RECORDING:
Established by Günter Graulich, a choral conductor, in 1972, Carus Verlag is a music publisher, which mainly focuses on church music, in Stuttgart. It has released such CDs with core church music as a complete works of Wilhelm Friedemann Bach, the eldest son of famous J. S. Bach. The recording was directed by Mr. Florian B. Schmidt and Mr. Aki Matusch, active Tonmeisters in Berlin.

3. BACKGROUND ON THE PRODUCTION:
Heinrich Schütz was born in Thüringen, located in the central part of Germany, in 1585, exactly 100 years before J. S. Bach was born. He was an active composer, attached to a court orchestra in Dresden, and is described as "the father of German music." The 400th anniversary of Schütz's taking up an appointment as an exclusive composer for the court orchestra, Dresdner Kammerchor has been working on recording all Schütz's works in 22 albums, and the recording this time was for the 10th album with Psalmen Davids SWV 22-47. Due to its poor profitability, it has become uncommon to perform an orchestra recording by sessions. However, there were 4 concerts scheduled in and around Dresden before and after the 4 days of recording. The matter of profitability was well considered and taken care of by scheduling concerts and recording session in the same period of time.

4. RECORDING VENUE:
The recording took place at Stadtkirche zu Radeberg, a church on a low hill in Radeberg, the town famous for brewing Radeberger pilsner beer, located about 15 kilo meters north of Dresden. The church was built more than 400 years ago, and it is said that the church has had strong ties with music. Including the recording with Dresdner Kammerchor this time, many recordings has been performed in this church. Early reflection sound is rather dark, and it felt like the length of reverberation was approximately 2 and a half seconds.
Stadtkirche zu Radeberg

5. RECORDING METHODS AND EQUIPMENTS:
Figure #1 shows the equipment system. The system was mainly equipped with Merging Technologies Pyramix DAW, RME Micstasy Audio I/F, and RME Micstasy Head Amp, and there was no console in the system. Equipment was set in a priest's office, and the office was used as a control room. Master clock was provided from the primary RME Micstasy, and the recording was operated in 44.1kHz/24bit/22 channels Multitrack Recording.(no sum was recorded.) Although the recording system had inputs for 22 channels since it was a surround session, they carried all the equipment on one Audi passenger car with only 2 people. It was really impressive for me.

EQUIPMENTS (Figure #1)
6. ARRANGEMENT OF MICRPHONES:
Figure #2 shows the microphone arrangement for the recording this time. Music from Schütz's period often require a style of performance called "Antiphon," in which performers are divided into more than 2 groups and play or sing at different places. This time, Favorit-Chor I and II with vocal soloists and basso continuo were placed at right and left sides in the front part of the church, and Capell-Chor I and II with choirs were placed at right and left sides in the rear part of the church. In order to make the effects of distances between the groups perceivable, the recording session was executed in the style of surround recording. Decca Tree with B&K 4006 was set as the main microphone, and B&K 4006 with a nose cone, which makes audio-frequency completely omni-directional, was set as LS-RS. Spot microphones include cardioids such as B&K 4011 for basso continuo at the front and Schoeps MK4 for instruments in the rear; as well as Schoeps MK22 open cardioids for vocal soloists and Schoeps MK21 wide cardioids for choirs. Placements of the spot microphones were well arranged, considering overlaps among the microphones, to pick up ideal sound from each spot microphone. What was impressive for me was that the engineers were taking delay on the Pyramix mixer by making sound pulses with something like a paper clip in front of each microphone and measuring time difference between waves of the main microphone and spot microphones in order to make it possible to adjust time alignment between the main microphone and spot microphones during intermissions.

Microphone arrangement: (Figure #2)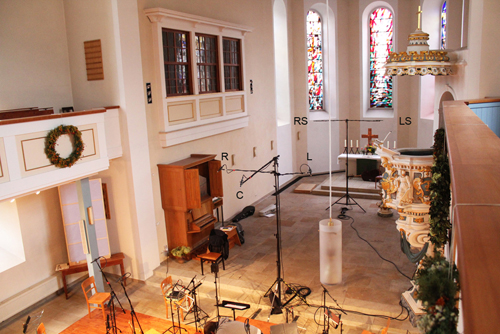 7. CONCLUDING REMARKS:
Staying in Berlin as a Nagoya University of Arts' overseas research personnel for a year from April, 2012, I have engaged in recordings of classical music and worked on my studies on Tonmeister education. Meanwhile, I was able to observe many recordings thanks to variety of people's favor. Schütz is a composer who actively composed his works in Dresden, and I felt it is quite in the nature of things that his works is performed by an ensemble in Dresden and recorded in the suburb of Dresden. Although the microphones for LS and RS, which are set in the rear in surround, were placed right by the altar of the church in this recording, voice of the vocal soloists, placed at right-front and left-front, was reflected by a round wall behind the altar and picked by those microphones quite well. From this, I could feel the stereoness effect that would not occur in a conventional concert hall but is peculiar in the church. This project is to record complete works of Schütz within 10 years. It is not easy thing to do, but I could feel that this project is supported by the good communication among the ensemble, label, and recording producing staffs. I would like to acknowledge Mr. Florian Schmidt and Mr. Aki Matusch who both gave me their ready consent to contribute this article to Surround Terakoya Lab.
| | |
| --- | --- |
| | Format:Hybrid SACD, ASIN: B00G2XM5PM |
Heinrich Schütz : Psalmen Davids
Orch : Dresdner Barockorchester
Dirigent : Hans-Christoph Rademann
Soprano : Birgit Jacobi , Isabel Jantschek, Dorothee Mields, Marie Luise Werneburg
Alto : David Erler, Stefan Kunath
Tenor : Tobias Mäthger, Georg Poplutz
Bass: Stephan MacLeod, Felix Schwandtke
Recording Team: Florian B. Schmidt, Aki Matusch
(C) 2013 Carus-Verlag GmbH & Co KG
Translated by Hitoshi Sugie