Music Culture Creation Department,   
Nagoya University of the Arts' School of Music  

1. OVERVIEW:
This is a report on the session recording, with performance by Deutsches Symphonie Orchester Berlin (DSO) with a soloist, Tabea Zimmermann, viola, for production of SACDs, "Hindemith: Complete Viola Works Volume 1," co-produced by Myrios Classics and Deutschlandradio Kultur (DLR). The recording took place at the Jesus Christ Church in Dahlem Berlin in August, 2012.

2. THE LABEL AND RECORDING:
Myrios Classics is a label, established with a concept, "to provide excellent music in high quality format to the listeners," by Mr. Stephan Cahen, who studied musicology at Ruhr-Universität Bochum and sound engineering at Robert Schumann Hochschule Düsseldorf, in Mainz, a southwestern German town, in 2009. The label has released CDs with performances by such artists as Tabea Zimmermann, viola, and Hagen String Quartet. In the recording, Tonmeister (musik regie/music director) was Mr. Stephan Cahen, from Myrios Classics, and Toninggenieur (ton regie/balance engineer) was Mr. Thomas Monnerjahn from DLR.

3. CONTENTS OF SACD AND BACKGROUND ON THE PRODUCTION:
2013 is the 50th year after Hindemith's death. Born in Hanau, Germany, Hindemith is a composer who wrote over 600 works, and he is famous for writing not only symphonies and operas but also works for almost all kinds of instruments in a symphony orchestra. Since Hindemith himself was a violist, he wrote many works for viola and orchestra. Out of his works for viola and orchestra, following 4 works were recorded in the session:

 Trauermusik for Viola and String Orchestra (1936)
 Kammermusik No. 5, op. 36 no. 4/ Viola Concerto (1925)
 Konzertmusik for Viola and Large Chamber Orchestra Op. 48 (1930)
 Der Schwanendreher for Viola and Small Orchestra (1935)

DLR, a German public broadcaster, co-produces various recording products of the classical music, and it produces master recordings in collaboration with other labels. DLR's way of co-production is to provide its recording technique, recording personnel, and facilities for the production and to release the product for sale through outer labels. Many of the recordings take place in Berliner Philharmonie, Konzerthaus Berlin, Siemensvilla, and the Jesus Christ Church in Dahlem Berlin, where the recording took place this time. Due to its poor profitability, it has become uncommon to perform an orchestra recording by sessions, and more master recordings are produced by compilation of takes from live recordings and rehearsal recordings. However, this recording was performed in a session style for 6 days, and thankfully, I was able to be present at this precious occasion.

4. RECORDING VENUE:
The recording took place at the Jesus Christ Church in Dahlem Berlin, located in southwest part of the City of Berlin, for 6 days. The church has excellent chamber acoustics, and it is well known that Karajan and Berlin Philharmonic Orchestra did several recordings in this church in 1960s. Early reflection sound is rather dark, and it felt like the length of reverberation was approximately 2 and a half seconds. It can be described, "sound gradually vibrates" as the reverberation attenuates. DLR owns a control room, regularly equipped with recording equipment, in this church. Because this recording was for making a master recording, co-produced by DLR, the control room was used for the recording.
5. RECORDING METHODS AND EQUIPMENTS:
Figure #1 shows the equipment system. Since the recorded materials were for SACD, released by Myrios Classics, microphones were set in an arrangement for surround audio recording. DLR's recording equipment included YAMAHA DM2000 Console, Merging Technologies Pyramix DAW. YAMAHA AD824 HA/ADC for 24 channels was set up in the church, and audio signals were to be transmitted through MADI optical connection with MADI Audio Service in this system. Monitoring speakers for surround sound, Musikelectronic geithain RL 903 for L/C/R and Musikelectronic geithain RL 905 for LS/RS were also regularly equipped in the control room. In addition to the pre-existing system, Myrios Classics brought in two Digital Audio Denmark AX24s as HA/ADC, and they were connected to YAMAHA AD824 via AES/EBU. The master clock was provided from the primary Digital Audio Denmark AX24, and the recording was operated in 48kHz/24bit.

Equipments (Figure #1)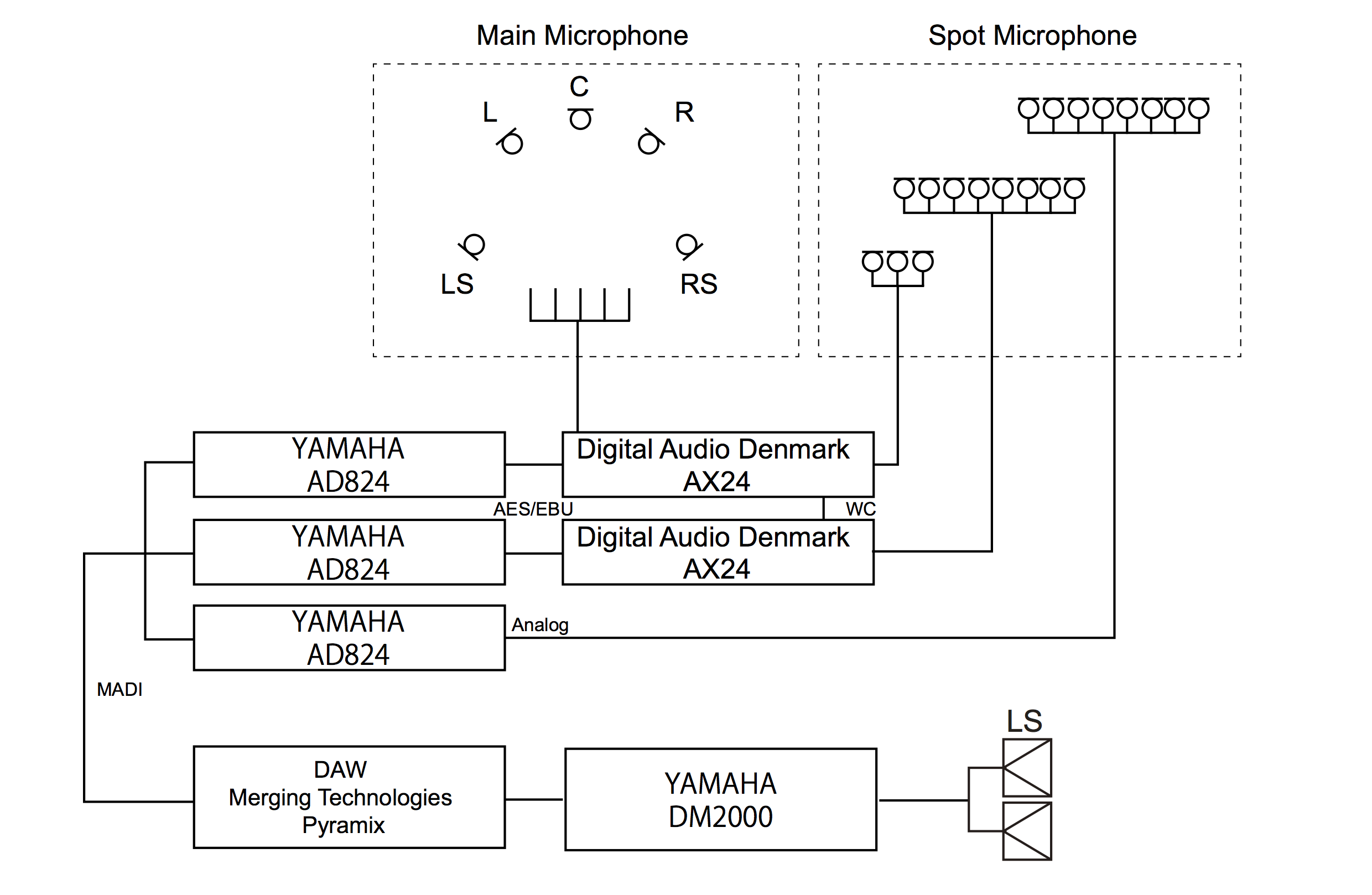 | | |
| --- | --- |
| Console : YAMAHA DM2000 | DAW : Merging Technologies Pyramix |
| | |
| --- | --- |
| HA/ADC : Digital Audio Denmark AX24 | Mic PSU : Sonodore Microphones |
6. ARRANGEMENT OF MICRPHONES:
Figure #2 shows the microphone arrangement for the recording this time. In the conventional setting for a concert, the placement of solo violist is left side of the main microphones. In order to avoid it, the placement of the solo violist was set slightly towards the center. Main microphones were Gross A-B (large A-B) with Schoeps MK2S, Klein A-B (little A-B) with DPA 4006, an omni-directional microphone functioning with 60V phantom powering, and a Decca Tree with Sonodore Microphone RCM-402. For LS-RS, Neumann KM130s were set towards corners of ceiling in the church. This type of main system with Decca Tree and large/small A-B expands the possibilities in mixing after the recording, and I saw main systems in this style several times in recordings I observed in Germany. Spot microphones include Sennheiser MKH 80 for viola solo, Neumann KM84 for strings, Schoeps MK21 wide cardioid and Schoeps MK22 open cardioid for woodwinds, Neumann U89 for brass, and DPA4011 for timpani.

Microphone arrangement: (Figure #2)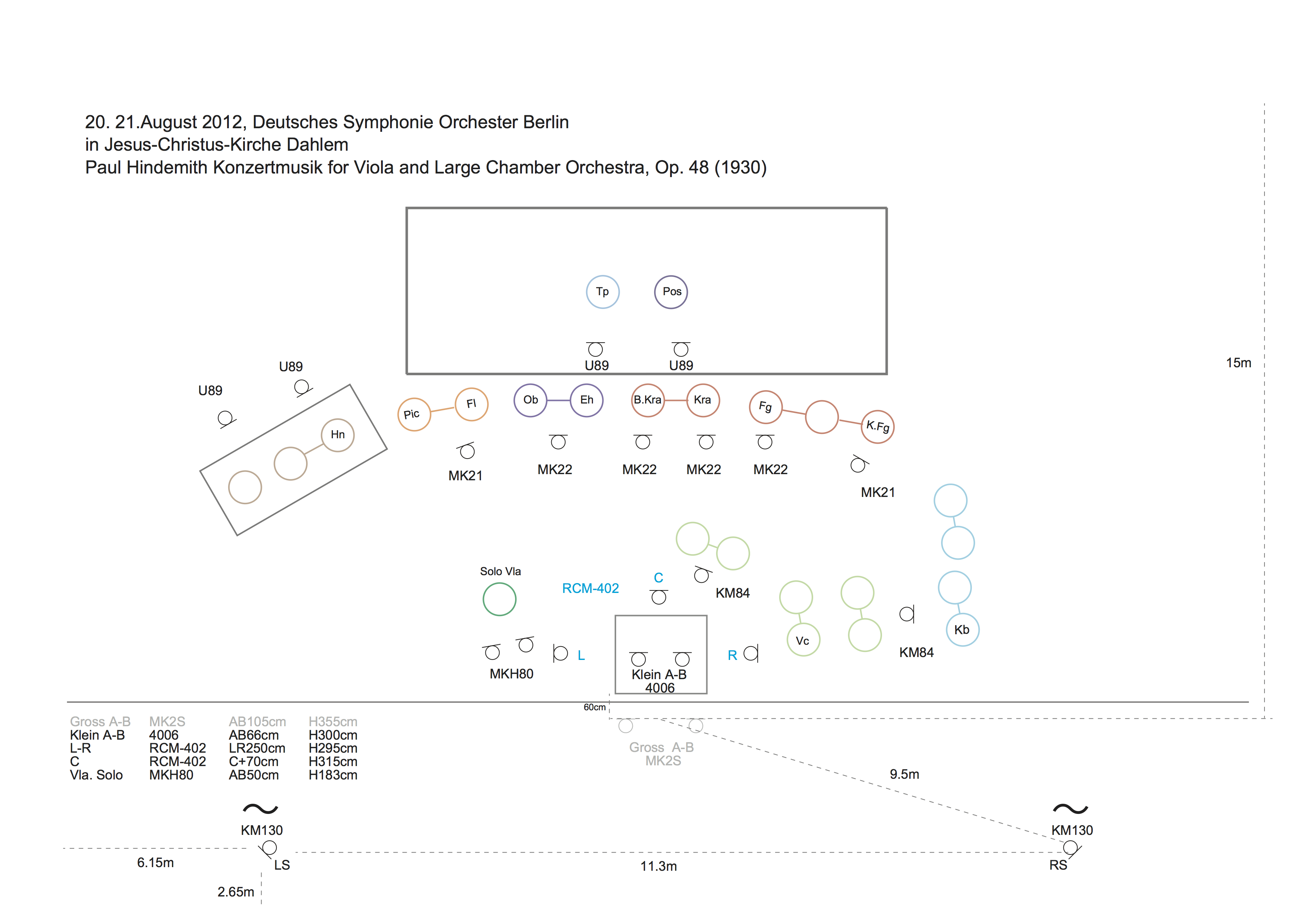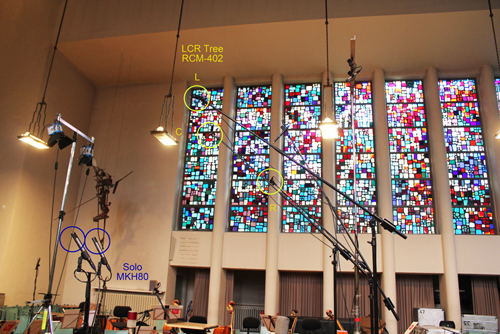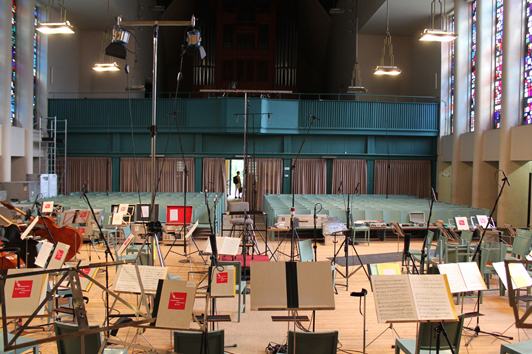 | | |
| --- | --- |
| Woodwinds : Schoeps MK22 | |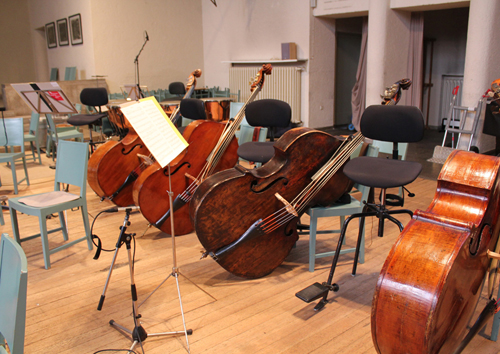 7. POST PRODUCTION
Following is I did interviewing Mr. Stephan Cahen (myrios classics):
I really didn't do anything special during editing/mix. After the edit has been approved by the soloist and the conductor, I created the stereo and 5.0 (no LFE) mix for SACD hybrid purpose.

No artificial reverb has been added, only minor EQ pushing.

A time alignment of the spot microphones delays were set, especially to compensate the Sonodore tree to the mains.
8. CONCLUDING REMARKS:
Staying in Berlin as a Nagoya University of Arts' overseas research personnel for a year from April, 2012, I have engaged in recordings of classical music and worked on my studies on tonemeister education. Meanwhile, I was able to observe many recordings thanks to variety of people's favor. Hindemith was a composer who actively composed his works in Berlin and a professor who taught at the current Berlin University of the Arts. However, he was compelled to leave Germany because of the Nazis before the Second World War. It is quite emotive to see his works being performed by the orchestra in Berlin and recorded in Berlin.
I would like to acknowledge Mr. Stephan Cahen, Myrios Classics and Mr. Thomas Monnerjahn, DLR who both gave me their ready consent to contribute this article to Surround Terakoya Lab.

Der Schwanendreher concerto after old folk songs for viola & small orchestra
Trauermusik for string orchestra with solo viola
Kammermusik No. 5 Op. 36 No. 4 Bratschenkonzert for solo viola & large chamber orchestra
Konzertmusik Op. 48a for solo viola & large chamber orchestra (early edition)world premiere
Recording Credits
Location : Jesus-Christus-Kirche Berlin-Dahlem August.2012
Executive Producer : Rainer Pöllmann (Deutschlandradio Kultur) & Stephan Cahen (myrios classics)
Recording Producer,Balance engineer & Digital Editing : Stephan Cahen
Recording Engineer : Thomas Monnerjahn (Deutschlandradio Kultur)
Assistant Engineer : Maksim Gamov
(P)2012 (C) 2013 A co-production of myrios classics & roc Berlin & Deutschlandradio Kultur
Translated by Hitoshi Sugie